It's time for another
ABC Christmas Challenge
...it's my turn to host it, and the theme I have chosen is:
'U is for Under the Tree'
In other words make a gift/gift bag/gift box
Our sponsor for this challenge is the fabulous
Simon Says Stamp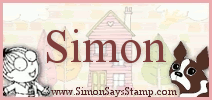 The prize is a $15 Gift Certificate...and they'll pay the shipping too!
We are also holding a DT Call on this challenge, as we are looking for some new members for our happy little team...so if you love Christmas crafting as much as we do...you can find all of the details on the
ABC Christmas Challenge
blog.
I decided to do some beading, and made a couple of simple bracelets...actually I made nine...but I've only photographed and made packaging for these two. The one on the left is made from freshwater pearls in a gorgeous silvery/petrol colour, and the one on the right is Indian Agate. For both bracelets I threaded the beads on to stretchy elastic, and then added a heart shaped charm on a jump ring to cover where the knots are tied.
I made a box for each bracelet out of plain navy blue card using my Easy Score Board, then added some silver tissue paper for packaging. I used my star shaped Nesties to make the tags out of silver and navy card, adding a cute little Penny Black mouse (from the 'Holly Jolly' set) coloured with watercolour pencils.
I used some fluffy and sparkly fibres to tie the tags around the boxes...I have loads of these they come free with orders from Craft Obsessions, and I never know what to do with them...but as I couldn't find any ribbon in the right colour/thickness...I decided to use them on the gift wrap! lol
I'm also entering these into the following challenges:
For more details of the DT Call, and more inspiration check out the fabulous creations by my lovely DT buddies on the
ABC Christmas Challenge
.